Purchase Prints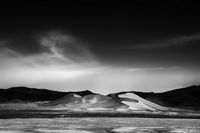 "Sand Mountain"
Print only
Select a print size:
Print + dry mount + mat
Select a print size:
Print + dry mount + mat + glass + frame
Select a print size:
First select the image size that you want and use the drop down menu to select matting and framing options or just the basic unmounted print. I primarily use Epson Premium Photo Paper Glossy, or Ultra Premium Luster as my standard. All my papers are ideal for framing and for long lasting, fine art quality prints. The glossy paper has an ultra-smooth and bright white finish and the luster has a nice soft quality with less reflection. If you have a preference or the prints will be mounted next to each, please send me an email and let me know. The matting is a double window white and frames are brown and come with standard non fancy glass. The framed option are always provided with a backing cover and hanging hardware. Canvas framed prints, when offered, are fully backed but, of course, have no mats or glass. You may also just buy the basic canvas for a do-it-yourself project.